Welcome to A Logo For You!
Looking for promotional products? You've come to the right site! Whether you are looking for a specific item or just browsing for ideas, our site is your one-stop source. We have access to thousands of products and can help you come up with new and innovative ideas for any event.
The Logo Team can support you and help promote your business, organization or event. Our experienced, in house production staff is capable of handling all of your Embroidery, Screen Printing, Laser Engraving and Promotional Product needs. Large or small orders. Retail or commercial customers. Sizes up to 10XL. Standard or RUSH services. Local or overseas shipping!
If you have any questions, please feel free to contact us. Thank you and enjoy!
We look forward to helping you Make A Lasting Impression.
Featured Item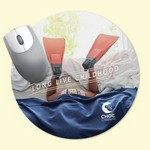 Barely There™+BW130 8" Round x.02...
These popular Barely There™+BW130 8" Round x.02" Ultra-Thin Mouse Pads deliver huge impact in an ultra thin profile. If your promotion involves a mailing or an insert, thin, lightweight Barely There™ ...
$2.08 - $2.67
Featured Blogs
Screen Printing Screen printing is one of the most popular and oldest ways of printing. Dating back almost 2000 years ago, the Chinese applied the first screen printing technique using human hair as ...